Giving Back – Homes for Heroes®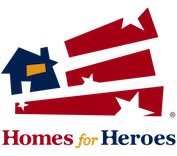 Desiree is honored to be the Hamilton County Real Estate Agent for Homes for Heroes, Inc. Homes for Heroes is the largest nationwide network of affiliate real estate specialists and local business affiliates; committed to providing easy ways for the heroes of our nation to save on a home.
Shortly after 9/11, Homes for Heroes, Inc. was established to give back to firefighters, law enforcement, military (active, reserves & veterans), healthcare workers, EMS and teachers.
As a Homes to Heroes real estate professional, Desiree gives 25 percent of her commission back to the Homes to Heroes organization and it in turn gives it to the participants. Depending upon the price of the home, Desiree says this can range from $700 to $2000 which these hometown heroes can use any way they see fit to make their journey to home ownership easier.
As the sole real estate professional for this program in Hamilton County, Desiree says it is an honor to give back to local Hometown Heroes and to make the American Dream of Home Ownership easier for those who give so much to our community.
Click here to learn more about Homes for Heroes